Latest news
3rd March 2014
A N Ford Surveyors partners Share a Mortgage to provide independent RICS Property Surveys
Leading Surrey & London RICS surveyor, A N Ford Surveyors, are pleased to announce they are supporting the revolutionary new alternative to shared ownership, Share a Mortgage.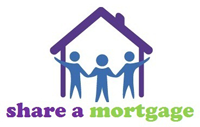 Share a Mortgage provides a solution to the affordable housing crisis in England through facilitating collaboration between private home-buyers who are willing to pool their resources to buy and share properties. Singles, professionals, buy to let investors or simply people who can't afford to buy on their own, can find likeminded buyers to team up and share the deposit, mortgage, on-going living and legal costs; finally owning a property of their own in a safe and affordable way.
Share a Mortgage is partnered with Mortgage Brokers, Credit Agencies, Income Protection Insurers, RICS surveyorsMortgage Calculator and Mortgage Affordability Calculator so clients can assess how much they can afford and what is the best mortgage interest rate.
Adam Ford MRCIS of A N Ford, started his career as a qualified chartered surveyor by opening his own practice with offices in Woking, Surrey and Windsor, Berkshire. He has become specialised in residential surveys and valuations. Adam has also been heavily involved in lease extension, enfranchisement and Party Wall Awards.
Adam instinctively delivers a highly personal service as standard, with on site debriefs with his clients or, if this is not possible or preferred, debriefs via telephone following his inspections offered as part of his service. Adam will always endeavour to give swift responses to queries relating to his reports. Andrew Boast of Share a Mortgage said: "Adam has helped 100s of my clients over the years and has a knack of picking up the little defects some surveyors might miss. He isn't afraid to snoop around until he is happy he can give a good condition report of the property."
"Adam's location gives him access to Surrey and London and he has worked on thousands of properties over the years. Small, large, flat, new, old - he turns up to each survey with his trusted tools to get the property surveyed. To the RICS standards."
"Adam will take the time to make sure he covers all the RICS survey points. To top it off, after the survey he will call you and run through major defects; just so you don't sit panicking about what the building survey report will include."
Adam of A N Ford said "It is great to work with Andy and his team at Share a Mortgage. It is very exciting to be part of something that is helping people buy properties. As a RICS surveyor I enjoy helping people spot potential property defects so they can make an informed decision when buying. My partnership with Share a Mortgage will mean I can get to help more people when buying, so that is fine by me."
To find out more about collaborative home buying please go to www.shareamortgage.com.